The face of Dior, Natalie Portman, is advertising the Miss Dior perfume in a sweet, short film. The Dior brand is using a celebrity partnership with its long-time ambassador Natalie to promote its new short film. This video will be made available on the brand's microsite, Facebook page, and aired as a commercial broadcast.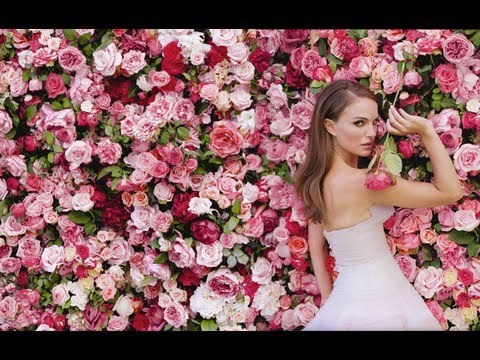 The infamously talented Sofia Coppola directed the 60-second video titled La Vie En Rose. It starts off with Natalie playing in a fountain and continues as a romantic short with plenty of pink and flirting. The video is available on its own webpage at lavieenrose-thefilm. The site includes a bit of background information on Sofia Coppola, the fragrance, the iconic bottle, exclusive behind-the-scenes images and the story revolving around the perfume.
The video concludes with Natalie lying next to a giant bottle of Miss Dior, then comes in the voice over: "Miss Dior by Christian Dior." It is sexy, salutary and oh so Dior! In the past, Dior has used Mila Kunis and Marion Cotillard who were also effective and creative spokeswomen, but they have chosen to continue to use Natalie since 2011. Although this continuing partnership has seemed prosperous for the brand, are we paying for the celebrity endorsement along with our perfume? Is Natalie Portman necessary for the brand or would another beautiful spokesmodel do?"
If something isn't broken, why try to fix it? From what we know of Natalie, she has proved to be an icon in grace, class and beauty, so if Dior chooses to continue to use her as its spokeswoman we believe it is a good investment. You can't spell luxury perfume with out the letters F-E-E.
Via Luxury Daily