Nail designs have become quite a big trend this year due to celebrities, including Rihanna and Katy Perry, who seem to be continually pushing the envelope with color, detail and over-the-top nail accessories. One nail trend, which novices and experts can all take part in is ombré. Ombré nails are as popular now as ombré hair is, but much less permanent and a lot more fun to create!
The sky's the limit when it comes to creating your own gradient effect as long as they can blend in seamlessly. To get started you will need a white nail polish for your base color, two or more polishes of your choice to create the ombré, some disposable cosmetic sponge wedges, nail polish remover and q-tips for cleaning up.
Here's an easy-to-follow video tutorial by MissJenFABULOUS, who uses three shades on her nails to create a fun, summer look.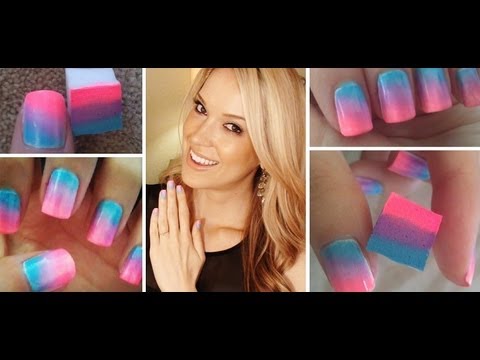 The steps:
1. Apply your white base color
2. Let dry for two to three minutes.
3. Cut one of the sponges down to size so it fits the size of your nail bed
4. On the sponge, paint well coated strips of your chosen colors side by side, touching slightly.
5. Bounce the sponge on top of your nail a few times till the colors start to blend into a gradient effect.
6. Let dry for two to three minutes.
7. Finish it off by applying your top coat and letting that dry for four minutes.
Tada! Now you've got your own hot, ombré manicure to show off with the best of them.
Images via StyleBlazer & The Beauty Bean