Rihanna debuts her second collection for Fenty x Puma, with a dynamic runway show and a killer homage to athleisure and young royal, Marie Antoinette. We can't deny Rihanna's street style, whether it's her own designs from Fenty x Puma or whether she is in Vetements, hitting the night scene after The Anti-Tour. Since her first design venture with River Island to her second collaboration with Puma, Rihanna has solidified street style.
With Paris Fashion week steadily approaching, the badgal announced via Instagram the live stream of the Fenty x Puma SS17 runway show, a Tidal exclusive.
The show took place at the Hôtel Salomon de Rothschild in Paris' 8th arrondissement, a beautiful Louis XVI inspired room. The collection and venue definitely gave us a different vibe, a departure from her ghetto/goth collection of fall 2016. For this season, Rihanna created a fantasy collection of Marie Antoinette inspired looks. Why this collection is a standout, the looks have been amped up to a sportier vibe. Very Hypebeast-esque. Complete with some of the hottest and new anti-models like, Sita Abellan and Slick Woods.
Front row and special attendees included: Joudan Dunn, Doutzen Kroes, Charli XCX, Kristina Bazanwere, Chiara Ferragni, Gigo Hadid, Matt Pokora, Sara Sampaio, Salma Hayek, and friend and stylist Nini Style.
The 21-piece collection was not only savagely cool, but also gender fluid. Pepto-pink parkas featured ruffled trimmings. Deconstructed bustiers and corsets were tied together with lace and worn over dresses, as part of sweatshirts or on their own with bra tops. Cherry blossom prints on silk and lace fabrics were a repeated theme, alongside other au courant trends such as ultra-wide pants and knee-length sleeves. Head gear consisted mainly of baseball caps, bucket hats and doo-rags, while crystal and pearl necklaces, chokers, crosses and diamond rings lodged in models' mouths were suitably swagged out accessories.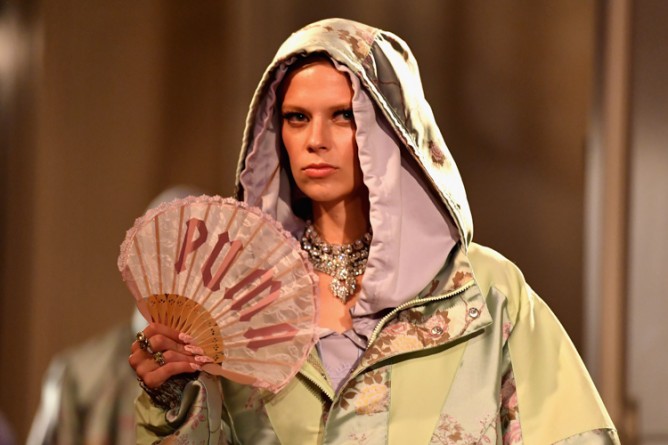 As for footwear, best believe that RiRi's ever-popular PUMA creepers, platforms and pool slides stomped their way up and down the catwalk. But, we can't get enough of the high-heeled Puma mules and ankle strap heels! Let us know in the comment section, for now relive #bts moments from the show!